40 CPR Quadrature Encoder
5.00 د.ك
This simple and affordable quadrature-output encoder fits onto the rear shaft of a motor so its position and velocity can be monitored.
Out of stock
Description
The ENC4109 is an affordable optical quadrature encoder. This device is great for projects that require motor position control.
Features:
Compatible with the mounting pattern of the majority of the DC and stepper motors sold by Phidgets
Encoder connects to a quadrature encoder interface.
Included with the ENC4109: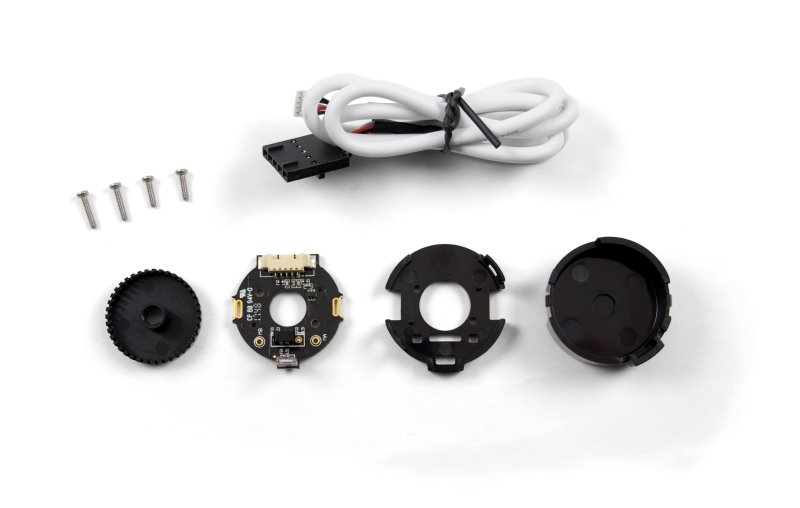 2x 8mm Mounting Screws
2x 6mm Mounting Screws
Encoder Wheel, PCB, Base and Cap
Encoder Cable
Product Specifications
Encoder Properties

Controlled By

Encoder Interface

Output Circuit Type

Push-Pull

Encoder Speed Max

6000 RPM

Encoder Resolution

40 CPR

Electrical Properties

Supply Voltage Min

4.2 V DC

Supply Voltage Max

5.5 V DC

Output Frequency Max

12.5 kHz

Physical Properties

Operating Temperature Min

-40 °C

Operating Temperature Max

85 °C

IP Rating

IP65
Customs Information

Canadian HS Export Code

9029.10.00

American HTS Import Code

9029.10.80.00

Country of Origin

CN (China)
Documents