Crowbits-Creator Kit Based on Arduino, 12-in-1 STEM Toy for Kids
67.50 د.ك
"Creator Kit" is the primary programming kit of the Crowbits series. It uses Arduino as the mainboard console and combines electronic modules and Lets code which is a visual graphics programming software
In stock
Description
Description
"Creator Kit" is the primary programming kit of the Crowbits series. It uses Arduino as the mainboard console and combines electronic modules and Lets code which is a visual graphics programming software. Through simple drag-and-drop programming, kids can create many interactive game projects, which greatly lowers the threshold of artificial intelligence learning.
"Creator Kit" encourages kids to create games actively and design animations. There is also code programming such as Arduino for you to explore. In this way, kids will keep their interest in learning and improve their logical thinking ability continuously
Note: Please allow the actual colors of LEGO-compatible blocks to be a little different from the project shown in the video.
Crowbits is a magnetic, programmable electronic block that can help kids or beginners to learn coding and electronics. Contains 80+ modules for kids to develop logic skills, and programming skills and turn their idea into reality with endless creativity.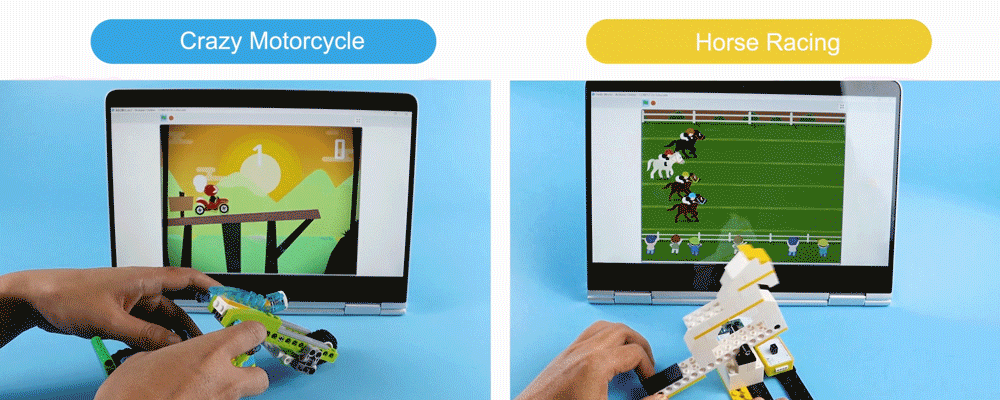 Feature
Easy to use, plug and play
Various tutorial guides
Compatible with Lego blocks
Strong expansibility, more attractive
Graphical programming
Specification
Package size: 9.8 x 7 x3.2 inch
Weight: 1000g
Package List
Modules
Quantity

Input

Crowbits-Button

1

Crowbits-Buzzer

1

Crowbits-IR Reflective

1

Crowbits-DHT11 Sensor

1

Crowbits-PIR Sensor

1

Crowbits-Linear Potentiometer

1

Output

Crowbits-LED Bar

1

Crowbits-Vibration Motor

1

Crowbits-LED Green

1

Power&Logic

Crowbits-UNO

1

I2C&UART

RGB Matrix

1

Other

Magnetic Cable

3

Lego Compatible Block Pack

1

Micro USB Cable

1

User Manual

1
Wiki & External links