Fanless Armor Case for Raspberry Pi 4B – Blue
8.50 د.ك
If you are searching for a maintain-free and energy free cooling, this case/enclosure will be perfect for you.
In stock
Save more when buy it with the kit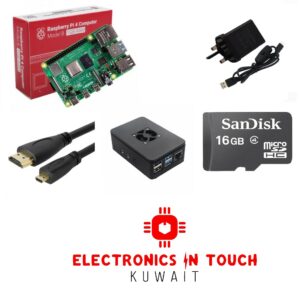 Description
We know the Raspberry Pi 4 Model B computer generates quite some heat because it is powerful. If you are searching for a maintain-free and energy free cooling, this case/enclosure will be perfect for you. It is a huge heatsink that becomes a case for the computer. Saving your money to buy separate heatsink and a case. This blue, anodized aluminum case for the Raspberry Pi 4 will give you 10-15°C of passive cooling under a full CPU load. This case is great for situations where you want completely silent cooling, like home media centers. Since there is no extra fan, it will not draw any power from the Raspberry Pi, and you do not need to change the fan even after 10 years
With the passive cooling of 10 to 15°C, your Raspberry Pi 4B will never reach 80°C and will never be throttled, if you do not over-clock the CPU
It comes with three thermal pads to provide thermal contact between the CPU, RAM and USB controller to the top case, and a handy Allen Key and set of hex bolts to attach the case together.
The case gives you access to all of the ports, pins, and connectors. You can just about get away with using low-profile HATs and pHATs (those without bulky components on the underside) but be extremely careful not to short any components on the metal top case!
Note: Raspberry Pi main board is NOT Included.
We have done the stress test (Stressberry) on Raspberry Pi 4 Model B 1GB board. The test is carried out to compare the temperature performance of the Raspberry Pi 4 with this Aluminum case, Blue vs Gold color. This is just one of the many methods you can use to benchmark the thermal performance of the enclosure or heatsink. The test consists of two parts which are cooling and continue with the stress test. The stress test loads the CPU to 100% and logs the temperature. We have also updated the EEPROM firmware of Raspberry Pi 4 Model B to 000137ad (date: 10 Sep 2019), the thermal performance improved significantly:
Features:
Aluminum Alloy Armor case for Raspberry Pi 4 Model B
Made from CNC machining manufacturing technology
Color: Blue
Its cool design and good-looking are liked by makers
Utilize aluminum as heatsink fins and as an enclosure to protect Raspberry Pi
There are four screws for you to fix the case with the Raspberry Pi board
With wide and huge surface and heat conductive aluminum:

Passive cooling of 10 to 15°C
No More Overheating Problem
No noise, total silent
Thermal Tape ensures Best Heat Conduction Effect.

For Aluminium Alloy Armor Case and Heatsink:

Perfect Size for Raspberry Pi 4 Model B.
Big Size Heatsink: No More Overheating Problem.
High Quality CNC Aluminium Alloy Case Can Protect your Pi Safe.
Open Design Can Make Sure Our CNC Case will not effect Wifi Signal.
Packing List:
1 x Aluminum Alloy Cooling Case, top and bottom
3 x Thermal Tape (2 big + 1 small)
4 x Allen Cap Bolt to fasten the case (from bottom)
1 x Allen Key