HDMI micro cable
6.50 د.ك
In stock
Save more when buy it with the kit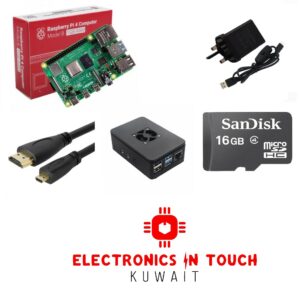 Description
Note : This is NOT Micro USB. This is Micro HDMI (Type D).
1.5 meter length
Compatibility
Connect your digital camera, tablet, GoPro, laptop, or any other device with a micro-HDMI port to your TV, monitor, display, A/V receiver, and more.
Connectivity
Fosmon's High Speed Micro-HDMI (Type D) to HDMI Cable w/ Ethernet is perfect for all your HD audio/video needs. HDMI is the most popular standard for connecting devices to HD displays and HD audio devices.
High Speed Cable, Up to 4K Resolutions
Fosmon's High Speed Micro-HDMI to HDMI Cable w/ Ethernet is a high speed category 2 cable, meaning higher resolutions of up to 4K@60Hz are supported. Category 1 (non-High Speed) supports up to 1080i, only 25% of the total pixels in 4K resolutions. HDCP is also supported.
HDMI Features from the Latest Specifications
This cable supports the latest HDMI specifications and their features, such as 3D, CEC, ARC, Deep Color, Dolby TrueHD bitstream capability, DTS-HD Master Audio bitstream capability, and more—provided that both the input and output devices support the respective feature.
Gold-Plated Connectors
Gold-plated connectors help resist corrosion and reduce tarnish to provide the highest signal transfer rates.
Specifications
Micro HDMI Male to HDMI Male
Up to 4K resolutions including 1080p
High Speed with Ethernet, Category 2
Gold-plated connectors
Supports all HDMI features
Supports HDCP
Compatibility:
Digital cameras
GoPro
TV
Tablets
Monitors
Laptops
AV Receivers